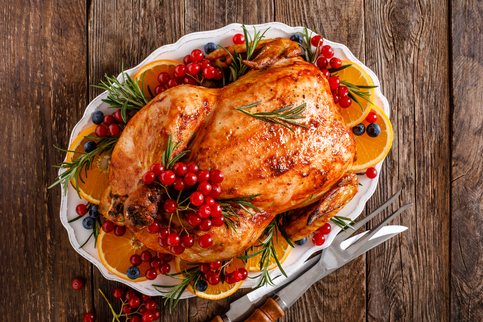 back to blog
Thanksgiving Turkey
This traditional turkey recipe is perfect and simple for first-time Thanksgiving Dinner chefs. Using a roasting bag and cooking the bird breast side down will yield an all-around juicy turkey. For presentation purposes, especially if carving at the dinner table with guests, cook breast side up. This recipe uses the breast side up technique.
Roast Turkey
2 T flour
Large Oven Bag
Large Roasting Pan
1 ea onion, coarsely chopped
5 ea carrots, peeled and coarsely chopped
3 ea celery sticks, peeled and coarsely chopped
15 lb. turkey, defrosted, washed, neck and giblets removed
Salt
½ cup butter, melted
Preheat oven to 350 degrees F. Spoon 2 T of flour into oven bag. Sit bag in roasting pan. Place rough cut onion, carrots and celery into bag to make an organic "rack" for turkey to lay on. Wash turkey out very well, removing neck and giblets from both cavities. Salt cavities. Stuff dressing into cavities (see Thanksgiving Dressing/Stuffing Recipe) filling only ½ to ¾ full. "Truss" bird by crossing and tucking legs in the skin fat near the leg ends, no string necessary. Rub salt over entire turkey. Place turkey inside of floured oven bag. Rub ½ cup (1 stick) of melted butter all over turkey. Tie oven bag with nylon tie and cut small slit in bag, per bag directions. Place turkey in oven and cook until done (about 3-3 ½ hours). Remove turkey from oven and allow to sit for 20 minutes. Open bag, extract stuffing and set aside. Carefully remove turkey from bag and let rest on a large platter, reserving liquid for gravy. Carve just before serving.