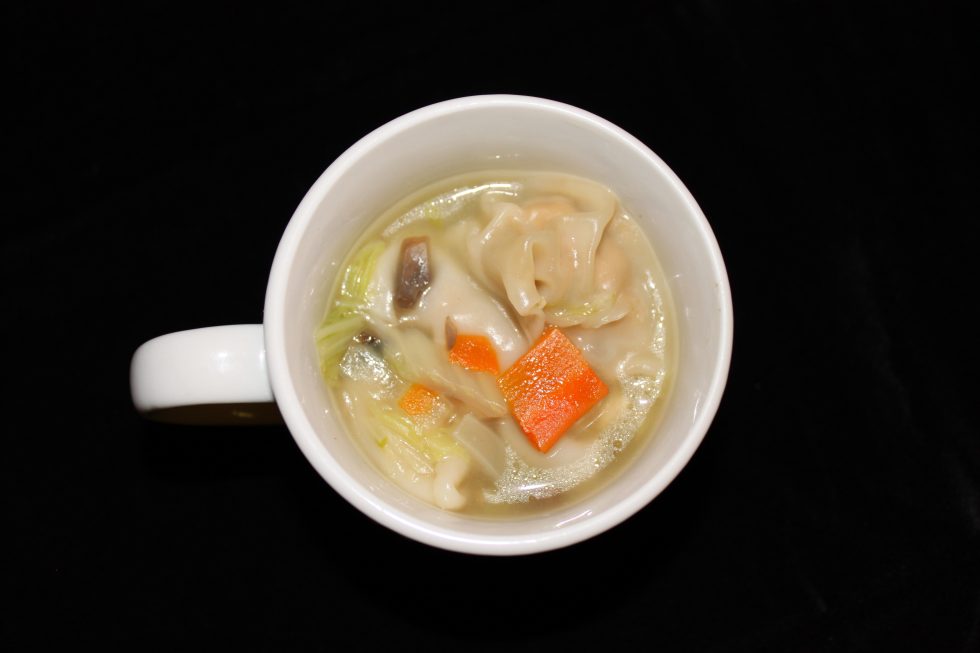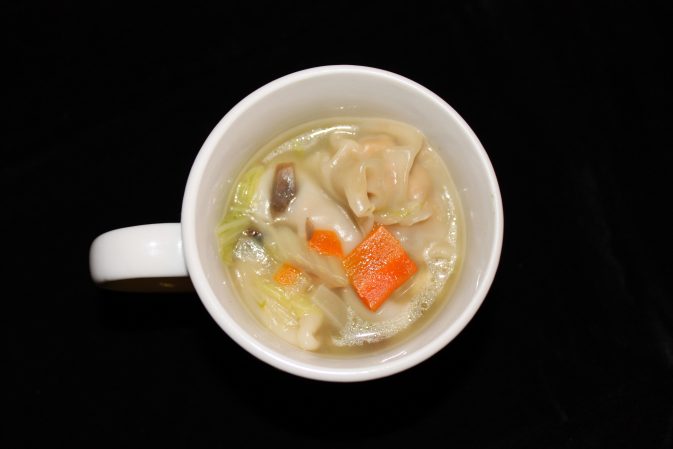 back to blog
Wonton Soup
I love serving this flavorful soup as a light evening meal. This recipe is versatile–you can use the wonton recipe to make fried wontons or the filling to make steamed dumplings or potstickerss.
INGREDIENTS
Wontons
1/2 lb. ground pork
2 Tbsp green onion, finely chopped
2 Tbsp Napa cabbage, finely chopped
1 Tbsp fresh ginger, grated
1 ea garlic clove, minced
1 ea garlic clove, minced
1 Tbsp soy sauce
1 Tbsp hoisin sauce
1 tsp rice wine
1 tsp rice wine
About 24 ea wonton wrappers
Soup
1 Tbsp canola oil
1/4 cup white onion, chopped
1/4 cup leeks, chopped
1 ea garlic clove, minced
3 cups chicken broth
3 cups water
1 tsp salt
1 ea carrot, sliced
2 ea Napa cabbage leaves, chopped
3 ea green onions, sliced diagonally
1 slice of fresh ginger
PREPARATION
Wonton directions
Combine first 10 ingredients for wonton filling in a bowl, reserving wrappers for later use. Cover and refrigerate 30 minutes for flavors to come together. Place wonton wrappers on a plate under a damp paper towel to keep from drying. Take one wrapper, place a heaping teaspoon of wonton filling, moisten edges of the wrapper with a little water. Fold over to make a triangle, removing any air bubbles and sealing well with your fingers. Fold bottom part of filled triangle up one time and fold side corners over together, sealing with water to make a rosette. Repeat this process until you have made 24 wontons, or until the filling is completely used.
Soup directions
Heat oil in medium pot. Lightly cook onion, leeks and garlic over medium heat until fragrant (do not brown). Add chicken broth, water and salt and bring to a simmer (small bubbles). Add carrot, cabbage, green onions, ginger and prepared wontons into broth and simmer for 5 minutes (Do NOT boil or wontons will burst open). Remove slice of ginger and discard. Taste and adjust seasoning with more salt, if needed. To serve: ladle equal portions of wontons and vegetables into individual soup bowls. Top with broth. Serve soup while hot.