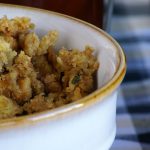 Nothing beats the aroma and taste of homemade stuffing. Yum!
Old-Fashioned Dressing for Stuffing
Yield: stuffs a 15-20 lb. turkey
1½ cups finely chopped celery
1 cup finely chopped onion
1½ sticks of butter
3 T fresh sage, finely minced
a/n Poultry seasoning (or mixture of dried herbs: marjoram, rosemary, thyme)
a/n Salt
a/n Black Pepper
12 cups cubed bread (about 1½ large loaves)
1/2 cup chicken stock (or as needed)
Melt and lightly brown butter in large pot. Add celery and onion, cooking until onion is translucent. Add herbs and seasonings. Place bread cubes into large bowl and toss with aromatic butter mixture. Add chicken stock (about 1 T at a time) as needed to make dressing moist, but not soggy. Just before roasting turkey, stuff small portion into bird cavities. Bake remaining dressing covered in oven at 350F for about 40 minutes. Mix the cooked stuffing from bird into baked dressing.