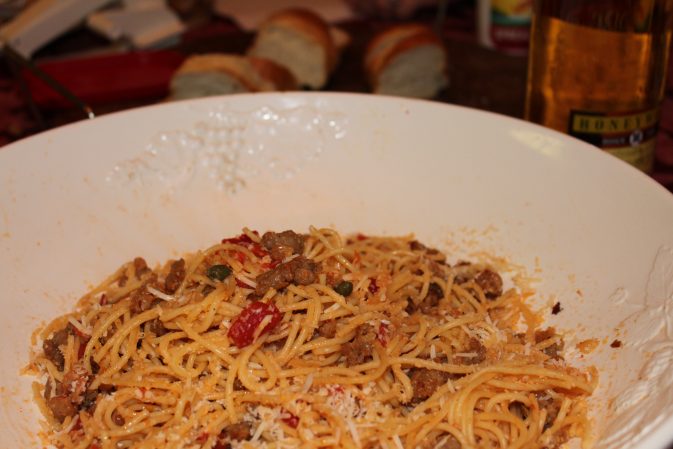 back to blog
Sausage & Pasta with Tomatoes, Onion, & Capers
Some friends and I were craving comfort food the other day and I threw this easy recipe together with pantry items on hand. This "sauceless" pasta showcases the flavors of ALL the ingredients—the sausage, pasta and aromatic vegetables. If a sauce is what you are after, double the amount of vegetables and it will be just as wonderful. Tastes even better the next day. Enjoy!
Sausage & Pasta with Tomatoes, Onion, & Capers
Serves 4-6
1 lb. spaghetti (or your choice of pasta)
1 lb. Italian sausage links
Canola oil, as needed
1 ea large onion, finely diced
4 ea garlic cloves, minced
14.5 oz can diced tomatoes
½ tsp red chili flakes
¼ cup Vermouth of dry white wine
½ cup chicken broth
¼ cup capers, rinsed and drained
¼ cup Extra Virgin Olive Oil (EVOO)
4 oz. Asiago Cheese, grated
Salt & black pepper
EVOO, as needed
Start boiling a gallon of water to cook the spaghetti. Salt the water generously.
Remove casings from Italian Sausage. Brown over medium high heat, breaking up the meat while cooking until it's resembles ground meat texture. Drain and set aside.
In separate large sauté pan, heat about 2 tbsp canola oil until hot. Sauté onion over medium high heat for about 2 minutes or until translucent (do not brown). Add garlic and sauté for another minute. Add tomatoes, red chili flakes, Vermouth, and chicken broth and simmer uncovered over medium high heat for 10 minutes. Add capers and ¼ cup EVOO and cook for 2 more minutes. Taste sauce and adjust seasoning with salt and black pepper, if needed.
Add pasta to boiling water and cook according to package directions.
Remove sauce from heat and combine drained cooked spaghetti, sausage and sauce in large bowl. Toss to coat, using more EVOO if needed. Add Asiago cheese and serve.