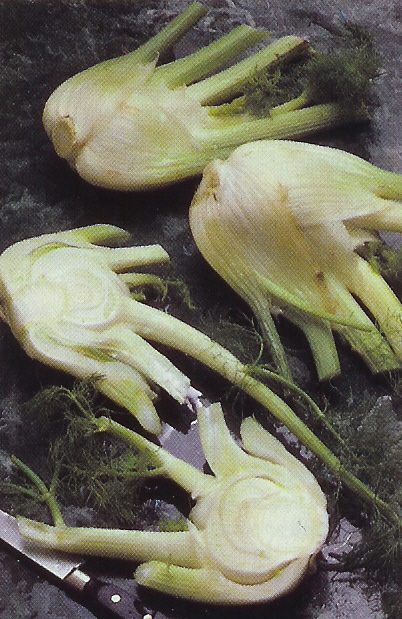 back to blog
Fennel Three Ways
Celebrate Fall with a seasonal favorite: Fennel. This aromatic vegetable can be identified by its bright green feathery top and pale, bulbous base. Its flavor is reminiscent of anise, but sweeter, and the taste mellows once it's been cooked. Go ahead--give it a try!
Fennel Gratin
Serves 4-8
4 large fennel bulbs
3 T butter
2 oz. freshly grated Parmesan
Garnish: feathery fennel tops
Trim feathery tops and tough bases off fennel bulbs. Pull leafy fronds from fennel tops and set aside. Slice bulb thinly lengthwise and cut in half or in thirds. Melt butter in sauce pan on medium heat. Add fennel and cook until tender and golden, about 10 minutes. Transfer fennel to casserole dish and sprinkle generously with parmesan. Bake at 350 degrees until cheese is melted. Can make 1 day ahead: Reheat in oven at 350 degrees. Garnish with feathery fennel tops.
Shaved Fennel Salad with Citrus Vinaigrette
Serves 4-8
Citrus Vinaigrette
Juice of 1 lime
Juice of 1 orange
1 ea clove garlic, minced
2 T basil, minced
¼ cup olive oil
Salt & black pepper, to taste
Whisk all ingredients together and set aside.
Fennel Salad
4 large fennel bulbs
2 ea medium oranges, peeled and segmented
2 ea limes, peeled and segmented
3 T fennel tops, torn individually from stems
3 T parsley leaves
Trim tops and bases off fennel. Pull leafy fronds from fennel tops and set aside. Using mandoline, v-slicer, or your knife, cut fennel lengthwise in very thin slices. Toss fennel and orange segments together with citrus vinaigrette. Garnish with segments of limes, fennel tops and parsley.
Fennel Vegetable Soup
Serves 4-6
1 T olive oil
1 medium onion, diced
1 large fennel bulb, diced
3 small carrots, diced
½ small head of cabbage, shredded and chopped
8 oz. canned tomato sauce
1 oz port wine
½ cup green beans, diced
4 cups cold water
1 cup beef broth
1 cup chicken broth
Salt & black pepper, to taste
Fresh grated Romano cheese
Saute onion and fennel for a few minutes in oil. Add carrots and cabbage and cook for about 5 minutes. Add tomato sauce and port wine and cook until half dry. Add green beans, cold water, beef & chicken broths and cook until vegetables are semi soft, about 10 minutes. Season to taste with salt & pepper. Top with freshly grated Romano cheese.