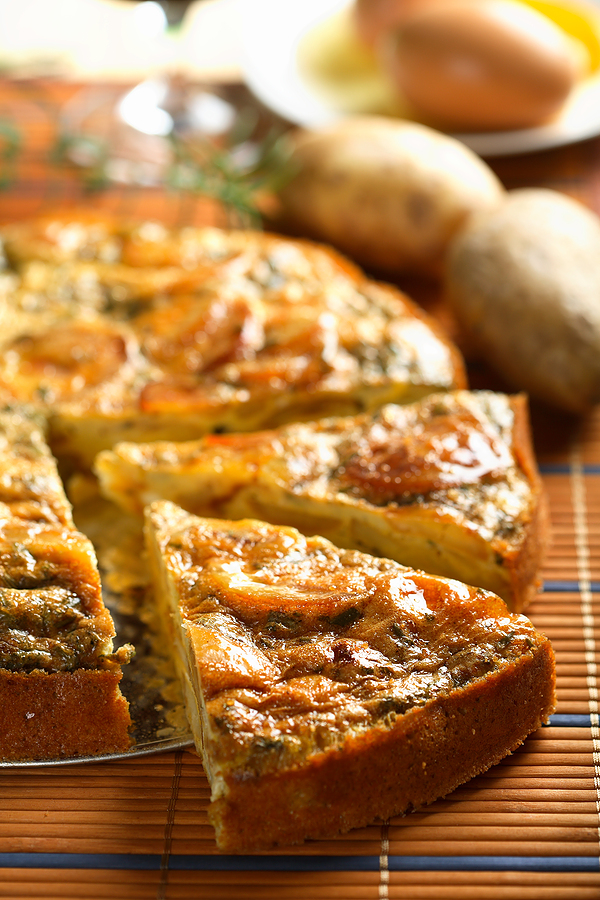 back to blog
Breakfast Strata
A strata is a make ahead egg dish that works well for brunch; a wonderful breakfast idea for Thanksgiving or Christmas morning, when you don't want to be in the kitchen all morning, but want to enjoy something savory and yummy. It's also an easy way to use up those remaining pieces of day-old bread, and simply tastes amazing. Experiment with other mix-ins using vegetables, meats, or different cheeses that you happen to have on hand. Enjoy!
Breakfast Strata
1 Tbsp canola oil
½ ea onion, diced
1 ea small red bell pepper, diced
1 ea tomato, diced
4 eggs
½ cup heavy cream
1 cup milk
½ tsp ground thyme
1 Tbsp fresh parsley, chopped
1 ¼ tsp salt
½ tsp black pepper
7 slices French bread, cubed (3/4 inch)
6 ea sliced bacon, cooked crisp and crumbled
2 cups cheese (choose one or a mixture. I use Cheddar, Monterey Jack, Gruyere and Parmesan)
The night before:
Heat canola oil in pan and saute onion and red bell pepper over medium high heat for about 3 minutes, cooking until onion is translucent. Add tomatoes and ¼ tsp salt and cook about 5 minutes, or until tomatoes cook down and liquid in pan is almost dry. Remove from heat and set aside.
In large bowl, whisk together eggs, cream, milk, ground thyme, parsley, 1 tsp salt and black pepper until well blended. Add cubed bread, prepared vegetables, crumbled bacon and 1 cup cheese and lightly stir until combined.
Grease 11 x 7 casserole dish with oil or cooking spray. Pour mixture into casserole and top with remaining cup of cheese. Cover and refrigerate overnight.
Serving day:
Preheat oven to 350 degrees F. Bake uncovered about 40 minutes, or until top is puffed and golden.
Serves 6