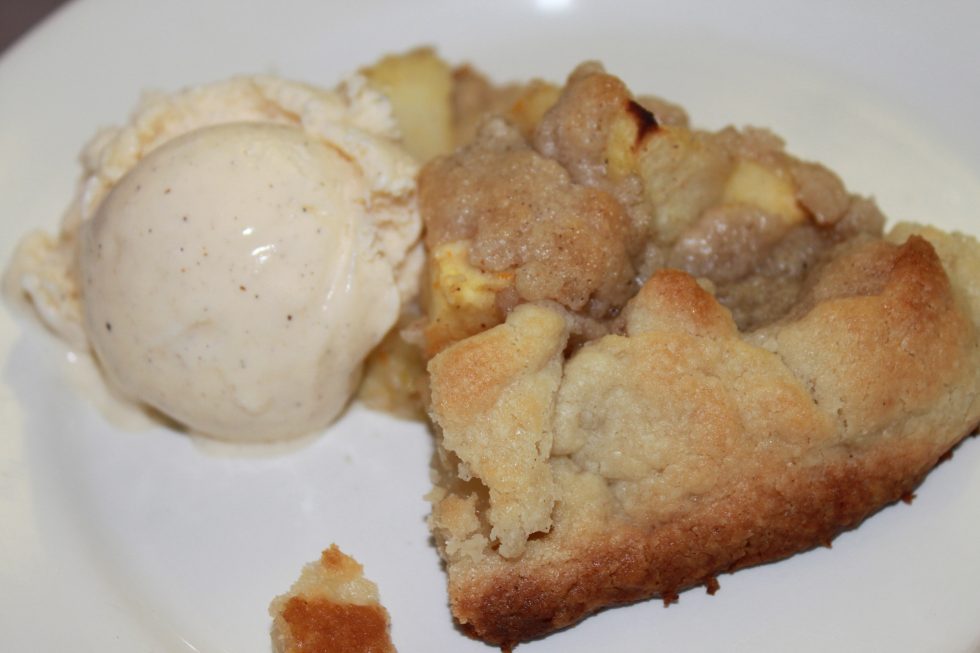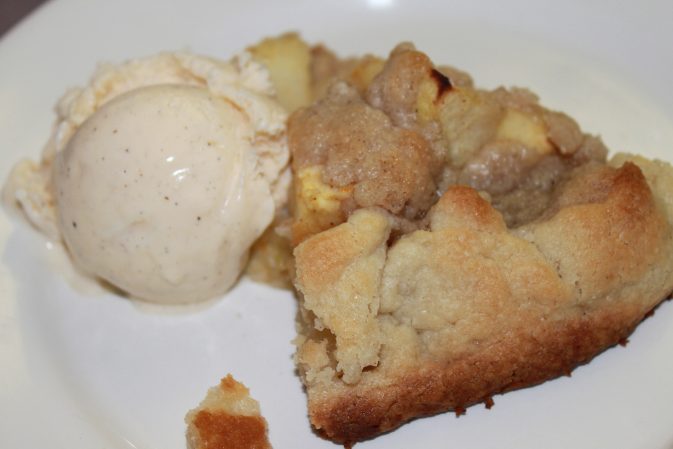 back to blog
Fresh Apple Crostata
I'd been craving an apple dessert for a few days, spotted a recipe for a fresh fruit crostata and decided to give it a try. Crostata is a rustic Italian dessert tart, baked free-form (without a pie or tart pan). The marriage of sweet, savory, spice and butter flavors in an apple crostata are a party in one's mouth. We all stood in my kitchen, speechless as we finished the last bite. So simple and delicious. Here's my version of the Apple Crostata. Enjoy!
Fresh Apple Crostata
Dough:
1 cup all purpose flour
2 Tbsp granulated sugar
¼ tsp kosher salt
½ cup (1 stick) butter, very cold, diced
1 Tbsp ice water
Extra flour, as needed for rolling
Apple filling:
3 ea large apples, mixture of tart and sweet (I used 2 Granny Smith and 1 Fuji)
¼ tsp lemon zest
1 Tbsp granulated sugar
1/8 tsp kosher salt
1/8 tsp cinnamon, ground
Topping:
¼ cup all purpose flour
¼ cup granulated sugar
¼ tsp kosher salt
¼ tsp cinnamon, ground
1/8 tsp nutmeg, ground
¼ cup (1/2 stick) butter, diced, very cold
For the dough, sift flour and sugar into a bowl. Add salt. Cut in diced butter, working with hands or pastry cutter. Mix until the butter resembles small peas. Drizzle in cold water and combine with hands until dough sticks together, ensuring not to overwork it. Turn out of bowl onto lightly floured surface. Form into a disk and wrap in plastic wrap. Refrigerate for at least 1 hour.
For the filling, peel, core and cut apples into 8ths. Cut each wedge into 3 chunks. Toss the chunks with lemon zest, sugar, salt and cinnamon. Set aside.
For the topping, combine flour, sugar, salt cinnamon, nutmeg and cut in diced butter. Rub with fingers until starts to hold together. Set aside.
Preheat oven to 450 degrees F. Lightly flour rolling surface and rolling pin. Roll dough into 11-inch circle, turning a quarter turn after each roll and lightly adding flour as needed, to keep dough from sticking to surface. Transfer to a baking sheet. Cover the tart dough with apple filling, leaving a 2 inch border around the edges. Sprinkle prepared topping evenly over the apples. Fold the border over the apples to enclose the dough, pleating it to make a circle. Bake for 20 minutes, until crust is golden and apples are just tender. Allow to cool for 5 minutes. Serve warm, with vanilla ice cream.