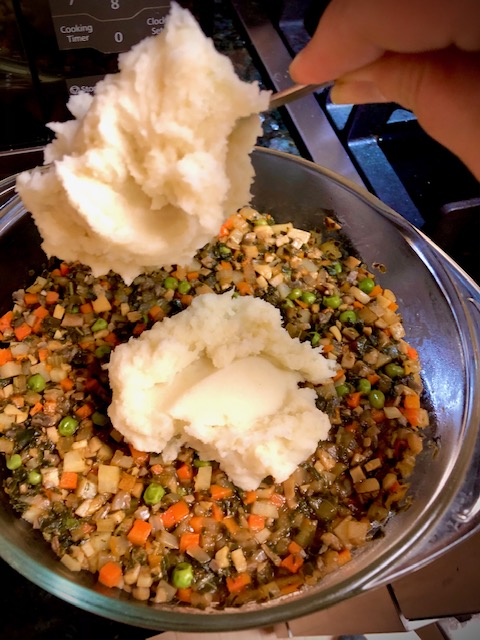 back to blog
Shepherd's Pie
Delicious heart-healthy version of a favorite comfort food classic
This is a delicious heart-healthy version of a favorite comfort food classic. Aromatic vegetable filling made with onion, carrot, celery, mushroom, diced potato, peas, minced kale, wine, tomato, vegetable broth and herbs. Topped with seasoned mashed potatoes and paprika.
Potatoes:
2 pounds russet potatoes (about 3-4 potatoes), peeled and diced
Salt, as needed
1 bay leaf
Reserved cooking liquid from potatoes
Filling:
1 onion, diced
2 carrots, peeled and diced
2 celery sticks, diced
8 oz mushrooms, cleaned, finely chopped
3 leaves kale, stems discarded, finely chopped
1 Tbsp tomato paste
1/2 cup Sake or Marsala wine
1/2 cup russet potato, peeled & diced
1/2 cup peas
1/2 tsp dried thyme
1/4 tsp Herbes de Provence
1 cup vegetable broth
1 Tbsp Worcestershire sauce*
Salt, as needed
Paprika, as needed
Preheat oven to 350 degrees. Peel potatoes. Place in pan and cover with water, bay leaf and about 2 tsp salt. Heat to boiling, reduce heat and simmer 15-20 minutes until tender.
While potatoes are cooking, in a separate sauté pan, sauté onion, carrots and celery for a couple min. Add mushrooms and kale. Cook for a couple minutes more. If vegetables start to stick add water, little drops at a time to stop from sticking. Add tomato paste, stirring and cooking until well incorporated. Add wine, 1/2 cup diced uncooked potato, peas, dried herbs, broth and Worcestershire sauce. Simmer for about 10 min until flavors come together and sauce thickens. Taste and adjust seasoning with a little salt as needed. Remove from heat. Set aside.
Remove the boiled potatoes from heat and let sit a few minutes in liquid. Drain, reserving cooking liquid, set aside. Mash potatoes, stirring in some of the cooking liquid, if needed. Taste and adjust seasoning. The potatoes should have a slight salty flavor. Set aside.
Spoon all of cooked mushroom mixture into a baking dish and top with mashed potatoes. Sprinkle top with paprika, if desired. Bake in 350 degree oven for about 20 min or until heated through. Remove from oven and let sit 5 min before serving.
*Note: Vegan Worcestershire Sauce is available online and in specialty stores.